⋆ HAMSKTAR ⋆
---
☆ TERMS & CONDITIONS ☆
I CAN DRAW:
OC's
couples
NSFW
furries / kenomimi
simple animals
mecha
I CANT'T DRAW:
Gore
Realism
Detailed architecture
Realistic animal
---
☆ TERMS OF SERVICE & ORDER FORM ☆
• What you get •
You will receive an initial sketch (or multiple if needed) for your approval, which I will proceed to make the final illustration. Full payment should have been done at this point.
1. General Terms
Prices are subject to change depending on the difficulty of the commission and additional requests.

I keep for myself the right to refuse a commission for any reason.
2. Payment
Payment is made upfront when order is confirmed.

Payment can be made through Paypal or local bank for Malaysian.
3. Process & delivery
The time taken for a commission can be very variable, but usually expect around a week, up to a month depending on the amount of commissions/complexity and personal work I have.

Once the commission is finished, you will receive the digital images through email (Google Drive).
4. Revisions
There is a maximum 2 revisions per work. Revisions cannot be made after sketch is approved.

Major changes will be charged according to the complexity.

At any time, don't hesitate to tell me exactly what might not be to your liking and I'll try my best to create the perfect illustration you are looking for. Just remember I can't read minds so communication is important.
5. Copyright usage
I, Hamsktar (the artist):
Reserve the right to cancel and refund an order at any time for any reason.

Retain all copyrights over the commissioned artwork.

Will NOT claim the intellectual property (IP) of the commissioned artwork.

Will NOT profit further from the commissioned artwork unless you (the customer) break any of the terms.

Reserve the right to post the commissioned artwork online (with watermark) and in my portfolio.
You (the customer):
ART FOR PERSONAL USE ONLY

May upload the commissioned artwork on any website and social channels.

May NOT make profits from the commissioned piece (reselling, redistributing, sell prints, etc.).

May NOT alter the commissioned artwork without my (the artist's) consent.

Retain all rights to the intellectual property (IP).

May NOT use the commissioned artwork for commercial purposes without my (the artist's) consent.
The following is considered copyright infringement:
Whoever use any copyrighted works without consent or authorization from the author, copyright owner and performer, it may constitute an infringement under Copyright Act 1987 . Amongst the act of infringement includes:

Reproduces in any material form or distributes to the public

Imports any work for the purpose of trade or financial gains

Sell or rent any infringing copy without artist's consent

Exhibits in public any infringing copy by way of trade
6. Cancellation & refund
You (the customer) is not allowed a refund once I (the artist) have started working on the commission.

If for any reason I am unable to start your commission, you will get a full refund.
☆ EMOTES COMMISSION ☆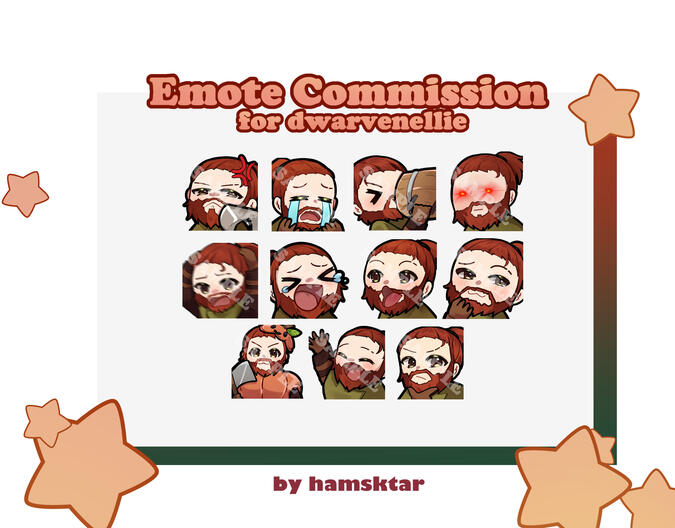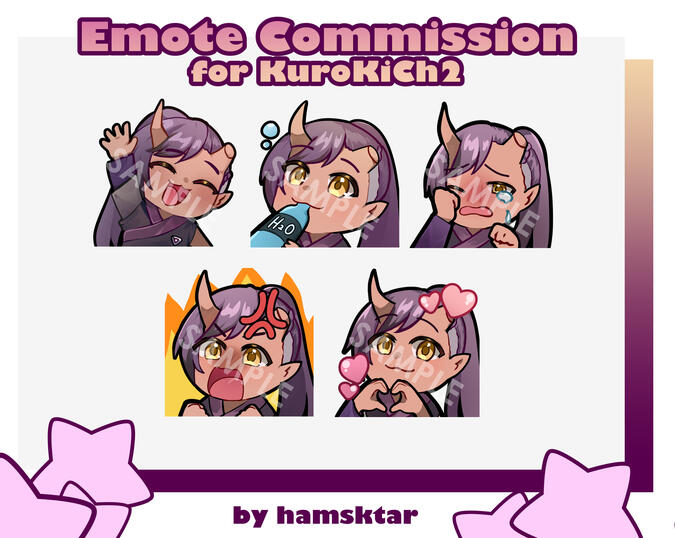 1 Emote = 40 USD / 50 MYR
3 Emotes =100 USD / 120 MYR
5 Emotes = 180 USD / 230 MYR